Blog Archives
President Obama is being heavily criticised for the Fast and Furious "gunwalking" scandal that came to light following the murder of Border Patrol Agent Brian Terry by gun traffickers who were being sold guns by the ATF. The operation began when the Tuscon, Arizona branch of the Bureau of Alcohol, Tobacco, Firearms, and Explosives (ATF) planned on selling guns to Mexican gun traffickers. These guns would then be tracked back to the Mexican drug cartels as part of a sting operation in hopes of finally breaking the drug cartels that have been wreaking havoc on the Mexican-American border.
The president is being criticised for asserting his executive privilege to withhold certain documents concerning the operation. Congressional Republicans, the Republican National Committee, and the Romney campaign all jumped on President Obama for this action, saying that he is going back on his promise for having a transparent government and that him and Attorney General Eric Holder, who recommended the president use his executive privilege, are trying to coverup a flubbed operation that resulted in the murder of a federal agent. They either fail to remember or simply ignore the fact that President Bush invoked his executive privilege six times. This is President Obama's first.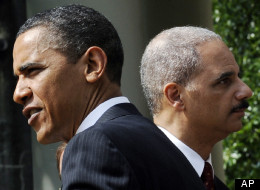 The Republican controlled House of Representatives voted along party lines to hold the attorney general in contempt of Congress and linking him to the failed operation and its supposed coverup. This could land Holder in prison or at least with a hefty fine, but more than likely not.
The other criticism of trying to coverup the operation, Deputy Attorney General James Cole wrote in a letter to Rep. Darrell Issa (R-CA), who is chairing the Congressional probe into the matter, that the Justice Department releasing 7600 documents concerning Operation Fast and Furious should have been ample evidence that no coverup is trying to be made. The Californian Representative seemed to ignore that bit of information, and the attorney general was still voted in contempt.
President Obama and his administration are claiming that Republicans and the Republican presidential candidate Mitt Romney are doing nothing more than politically motivated attacks to make him look bad in an election year instead of doing what they promised when they won the House in the 2010 midterms, which was creating jobs and helping the economy, seeing as they have killed almost any bill put forth by the Democrats of the Democratic president that would do such a thing.
Politicians and pundits alike on the right appear to be unaware of the fact that Operation Fast and Furious began during the Bush Administration in 2006 when it was known as Operation Wide Receiver. When Fox News had something to say about it, they conveniently left out these important details, or would simply ignore them when they were shown right to their faces. Sean Hannity and Bill O'Reilly either do not care about the facts or will outright ignore them if they do not fit into their notions of President Obama being the Black Hitler and will do and saying almost anything in order to criticise him.
So why is it that President Obama is being blamed (again) for something that began during his predecessor's administration?
In the Republican primaries for the US Senate in Indiana on Tuesday, long-time Senator Dick Lugar lost 40% to 60% to Richard Mourdock, Indiana's state treasurer. This in it of itself is shocking; Lugar has been in office since 1976 and had been considered one of the greatest minds on US foreign policy.
What led to his loss is even more upsetting. During the campaign Mourdock railed against Lugar for compromising with the Democrats and reaching across the aisle. He continued to call him "Obama's favourite Republican," trying to paint Lugar as a moderate and friend to the Democratic Party, saying that he would oppose bipartisanship if he were in office.
This is the disturbing things about the Republican Party.
Anyone who has taken any political science or American history class will tell you that things only ever got done in Congress when parties compromised with each other and decided to work together for the benefit of the country. Someone just won a Congressional primary on the ticket of ignoring common knowledge and the slogan of "We Will Not Work With You, Only Against You."
"Bipartisanship," "compromise," and "working together" have almost become dirty words to Republicans and the Tea Party. The right has become so radical that it has simply refused to do anything that would possibly get anything done if it meant being an adult and actually working with people to do what is necessary for the country.
This may be a good thing after all though. As the Tea Party ultra-nationalists alienate the moderate and establishment Republicans, they will eventually go so far to the right that they will form a third party that will split the vote for the conservatives, giving Democrats and liberals the chance to elect real progressive politicians who can bring real change to this country.