Blog Archives
Rev. William Owens on Tuesday compared President Barack Obama to Judas, the Apostle of Jesus that betrayed him, because he supports marriage equality. Not only that, but Rev. Owens, who is the founder of the Coalition of African-Americans Pastors and also a liaison to black churches for the National Organization for Marriage (NOM), also said, "The President is in the White House because of the civil rights movement, and I was a leader in that movement, and I didn't march one inch, one foot, one yard for a man to marry a man or a woman to marry a woman."
Basically, "I have my equal rights, so I'm going to fight against these people getting equal rights, because God said so."
He then goes on rambling incoherently about equal rights and blood and Jesus, saying, "So the President has forgotten the price that was paid. People died or they suffered or they gave their blood to have equal rights in the United States. And for the homosexual community and for the President to bow to the money, as Judas did with Jesus Christ, is a disgrace and we are ashamed. We will not take it back. We will not back down. We are going to take action across this country to change the course that this President has us in."
At first you think he's starting to come to a point, then he just compares the president to Judas for some reason. Is he trying to say that LGBT people (the Romans) are giving him money for his campaign, therefore he's betraying America (Jesus) by supporting gay rights, and that is a disgrace that they are ashamed of? I can't tell. Rev. Owens has also launched a campaign urging black voters to not support President Obama's bid for reelection because of his support for marriage equality.
I just find it funny that a black man, especially one who fought in the Civil Rights Movement, is trying to deny equal rights to another minority that is constantly stereotyped and discriminated against. It's also disheartening though that people actually think this. Black support for gay rights is significantly low, and NOM has taken advantage of this. As documents that were uncovered during an investigation showed, NOM is apparently, but not surprisingly, trying to "drive a wedge between gays and blacks" in order to prevent the advancement of marriage equality.
Reblogged from The 1600 Report:
UPDATE TO PRESIDENT OBAMA'S SCHEDULE: President Obama will make remarks in the Rose Garden about the immigration announcement at 1:15p.
Washington (CNN) -- In an election-year policy change, the Obama administration said Friday it will stop deporting young illegal immigrants who were brought to the United States as children if they meet certain requirements.
The new policy will cover people younger than 30 who came to the United States before the age of 16, pose no criminal or security threat, and were successful students or served in the military, the Department of Homeland Security announced.
As most people are aware, President Barack Obama recently said this during an interview with ABC on Wednesday:
I have to tell you that over the course of several years as I have talked to friends and family and neighbors when I think about members of my own staff who are in incredibly committed monogamous relationships, same-sex relationships, who are raising kids together, when I think about those soldiers or airmen or Marines or sailors who are out there fighting on my behalf and yet feel constrained, even now that Don't Ask Don't Tell is gone, because they are not able to commit themselves in a marriage, at a certain point I've just concluded that for me personally it is important for me to go ahead and affirm that I think same sex couples should be able to get married.
Gay rights activists and other supporters of gay marriage have been going completely insane over this. When the news first broke of this, I could not find anything in my feed on Facebook or Twitter for about two hours that was not about the president's endorsement (or so it seemed) of gay marriage. The news was particularly shocking in light of North Carolina's move on Tuesday to make a constitutional ban against same-sex marriage and Vice President Joe Biden's recent interview on Meet the Press where he said that he is "absolutely comfortable" with same-sex couples receiving the same rights as straight couples.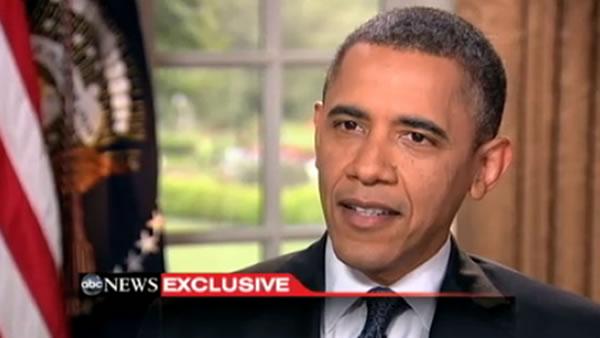 The problem with this is that he has not actually said or promised to do really anything. Okay, he thinks that gays should be allowed to get married. Great. He has not said anything about trying to actively repeal the Defense of Marriage Act (DOMA), although his administration says that they will not defend it in the courts, and he has not said anything about any new federal policy that would allow for gay marriage at the federal level. An aide to the president said that while President Obama feels that gays should have the right to be married, he also believes that the states should be the ones who ultimately decide if they want gay marriage or not.
The interview seemed to be carefully worded so that if he never does anything to repeal DOMA or try to bring a federal law recognising same-sex couples, he can say that he never promised such a thing. It all appears to be empty election politics so as to stir gay voters who may have been thinking of not voting for him come November (not that they would vote for Mitt Romney, who has stayed consistent, for once, on the issue of gay marriage and how he is against it).
Now despite this, President Obama's words are encouraging. He has said that his position on the issue has been "evolving," and maybe he will try to repeal DOMA someday. President Obama does not seem to realise this, but the position of the presidency does have a lot of influence with how the public feels and talks about certain issues, especially since he is a black man and black people and other minorities, while supportive of the Democratic Party, are not as supportive of gay rights as we would hope. Him coming out in favour of gay marriage by fully repealing DOMA and recognising same-sex couples would possibly put this issue in its dying days.
President Obama has done amazing things for gay rights, such as ending Don't Ask Don't Tell (DADT), and although this does seem like nothing more than election rhetoric to get liberals to the voting booths, the idealist in me hopes that someday (soon hopefully) we can all look back on this like we look back today at the people who opposed women's rights and black rights and think to ourselves, "Those people were fucking stupid."