Blog Archives
It's one of the oldest lines in the book (I'm not referring to the Bible), that Jesus, upon his coming to Earth as the son of God and eventual crucifixion, created a New Covenant for Christians (then the Jews) to live by, thereby abolishing the Old Covenant of Moses and the laws of the Old Testament, referred to as the Mosaic Law.
This is why certain Christians today claim that they do not have to follow the laws where God commands the stoning of gays (Lev. 20:13), supposed witches (Exo. 22:17), adulterers (Lev. 20:10), fornicators (Lev. 21:9), people of other faiths (Exo. 22:19), disobedient children (Lev. 20:9), entire towns of nonbelievers, including their women, children, infants, and livestock (Deut. 13:13-19), women who aren't virgins on their wedding nights (Deut. 22:20-21), people who work on the Sabbath (Exo. 31:12-15), blasphemers/infidels (Lev. 24:10-16), and many more.
There are, however, many Christians who would gladly quote these verses and say that we are still bound by these laws, such as the extremely homophobic Kansas and North Carolina pastors that have been in the news recently. Which is it then?
By today's standards, this is barbaric and disgusting. If someone today tried to kill someone else for any of these reasons, they would be considered a murderous psychopath, not someone who is doing good by carrying out the will of some god, even if those might be their intentions.
This rightfully so should be considered such, because it is barbaric; it is evil and backwards. If God is so loving, how can he ask this of his people? Even if these aren't in effect right now, which I will get to in a second, what kind of "loving father" would command at any point in time his children to kill others, God's other children, for just happening to be born in a different nation, for being born into a family of a differing religion, or for being born gay? "God is love," I guess.
The claim made by Christians is that Jesus abolished these laws. This may be true, and let's assume that it is for a minute. Now, I'm not going to argue if there is a new covenant. There is. It is laid out in the Old and New Testaments that God was going to create such a thing. In fact, here is a Christian explanation for the New Covenant. My only contention is when people say that since the Old Covenant was abolished, they no longer have to kill sinners, such as gays, supposed witches, adulterers, etc.
One Christian apologist blog claims that it has been abolished in one of their posts "Has the Mosaic Law Been Abolished?"
Since it was fulfilled, its requirements no longer apply. Thus practically, it has been abolished. As such, we are not required to follow it.
The author of the post gives numerous biblical verses that support the idea that the Mosaic Law has been abolished, or at least that we are no longer required to follow it. I suggest reading them all. If this is so, then what are the laws that people should follow? One of the people in the comments had this very same problem, except they were a Christian. They claimed, "According to [the author], we can now have sex with animals, commit incest…" and do all sorts of other things that were forbidden in the Old Testament.
A different Christian apologist site called Truth on the Web, has a different perspective on the matter. Emphasis his, not mine.
The apostle John taught throughout his writings that the law is still to be observed by God's people.  You could read in John 5:14 & 8:11 where Jesus told people to "sin no more". WHAT IS SIN? I John 3:4 states, " …sin is the transgression of the law". SIN IS THE BREAKING OF GOD'S COMMANDMENTS!  Jesus said not to break them anymore!
More disagreements between Christians on their own scripture and Messiah. Fun.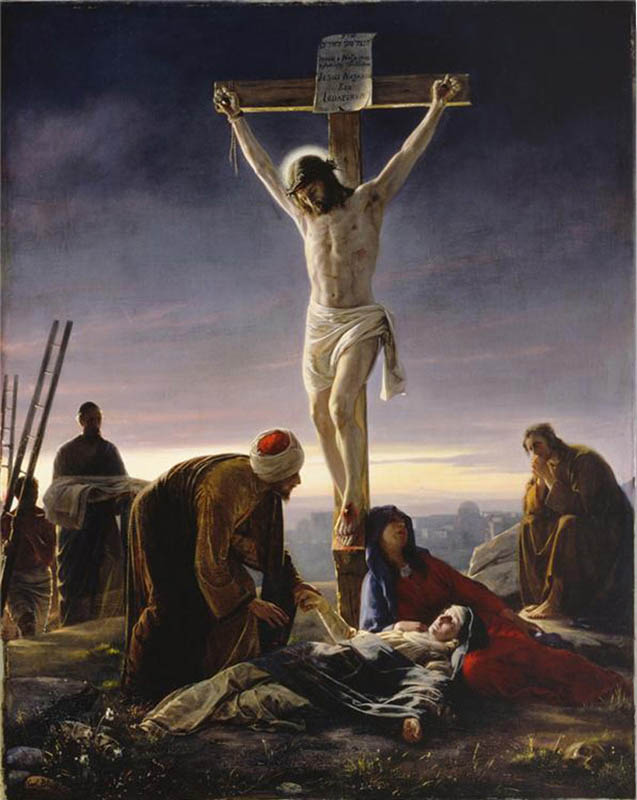 From what I've gathered from the latter of the two apologists, the Ten Commandments are still in effect, because Jesus, the Apostles, and others cite them throughout the New Testament, but the author says nothing of the 600 or so other commandments of God.
Are they the laws that were abolished upon Jesus' crucifixion? If it is true that we are supposed to follow the Ten Commandments alone, then what are the punishments for breaking them? The Old Testament says to stone and kill people who break them. It is suggested in the New Testament that the same punishment be dealt when Jesus quotes the laws of Moses in Mark 7:9-13.
And he continued, "You have a fine way of setting aside the commands of God in order to observe your own traditions! For Moses said, 'Honor your father and mother,'and, 'Anyone who curses their father or mother is to be put to death.' But you say that if anyone declares that what might have been used to help their father or mother is Corban (that is, devoted to God)— then you no longer let them do anything for their father or mother. Thus you nullify the word of God by your tradition that you have handed down. And you do many things like that."
So even if the laws I mentioned at the beginning were abolished, the Ten Commandments were not and are still commanded of Christians to this day. Do not forget too, the punishment for breaking the Ten Commandments "is to be put to death." Hey, Jesus' words, not mine (well, technically Moses, but Jesus is quoting him).
Now, God (Jesus' daddy…who is also him…who is also a part…that is still separate from him…and…what?) did not seem to change his mind about the laws and commandments I have mentioned when they moved into the New Testament, as is abundantly clear in Romans 1:26-32.
Because of this, God gave them over to shameful lusts. Even their women exchanged natural sexual relations for unnatural ones. In the same way the men also abandoned natural relations with women and were inflamed with lust for one another. Men committed shameful acts with other men, and received in themselves the due penalty for their error.

Furthermore, just as they did not think it worthwhile to retain the knowledge of God, so God gave them over to a depraved mind, so that they do what ought not to be done. They have become filled with every kind of wickedness, evil, greed and depravity. They are full of envy, murder, strife, deceit and malice. They are gossips,slanderers, God-haters, insolent, arrogant and boastful; they invent ways of doing evil; they disobey their parents; they have no understanding, no fidelity, no love, no mercy. Although they know God's righteous decree that those who do such things deserve death, they not only continue to do these very things but also approve of those who practice them.
I'm going to ignore the part where God just made people gay, fully knowing that they would be punished for what he made them do.
According to this, things like homosexuality and other sins mentioned are to be punished by killing the sinner. Remember, this is not the Old Testament. Romans is in the New Testament, so there is no getting around it. God is telling us in the New Testament that homosexuality, among other things, is still a sin that must be punished with death according to "God's righteous decree." God wants us to kill gays (Leviticus 20:13), but we've been "released from the law" (Romans 7:6), so we don't have to, but God still wants us to, because gays "deserve death" (Romans 1:32).
Some verses point towards a New Covenant being established, but there are also verses where Jesus himself is quoting Mosaic Laws, such as stoning disobedient children. Then there are laws and commandments in the New Testament that are identical to those in the Old. This further proves that 1) the Bible can be interpreted and cherry-picked however one sees fit in order to justify their beliefs and actions, and that 2) there are contradictions upon contradictions contained within the Bible.
So apparently, John Christy, the Christian that was on Dogma Debate recently who I wrote about in my most recent post The Christian Listener, has his own blog. I was unaware of this until I got a call from David Smalley about John's response to the discussion we had on the show.
After thanking us for having him on the show for half the post, he starts off with this:
Smalley kept using Malachi 3:6 as a reference stating, "I the Lord do not change." Smalley used this claim as the Bible's support of killing homosexuals and slavery. What he did not read, and I failed to bring to his attention, was the second half of that verse which also states "So you, the descendants of Jacob, are not destroyed".
Looking at the full context of this verse, which John is so big about, we see that what David said was not out of context.
"I the Lord do not change. So you, the descendants of Jacob, are not destroyed. Ever since the time of your ancestors you have turned away from my decrees and have not kept them. Return to me, and I will return to you," says the Lord Almighty.
Always, every time, every single time an atheist quotes the Bible, a Christian will say some variation of, "You're taking it out of context!" Even if they're wrong, they will say it, because they will immediately say that we are wrong for "taking it out of context" once you say something from the Bible that they disagree with. "I the Lord do not change," is not taken out of context. I have seen Christian apologists even quote Malachi 3:6 just as David did to prove similar points.
However, there are verses from the Old Testament where God does change his mind on things, as is clear from Jeremiah 18:7-10.
If at any time I announce that a nation or kingdom is to be uprooted, torn down and destroyed,and if that nation I warned repents of its evil, then I will relent and not inflict on it the disaster I had planned. And if at another time I announce that a nation or kingdom is to be built up and planted,and if it does evil in my sight and does not obey me, then I will reconsider the good I had intended to do for it.
This could be construed as changing his mind, but if God is omniscient, then he knows what nations and kingdoms will do what he wanted and which ones will not, so it's not really changing his mind if he knows what is going to happen.
Then Hebrews 7:21 says, "The Lord has sworn and will not change his mind…"
So God does change his mind from the Jeremiah verses, but also he doesn't from the Malachi and Hebrews verses. This is but another contradiction in the Bible for people to cherry-pick all the verses that support their interpretations of it.
Next in his post, John says this.
Smalley also avoided my continual usage of Jesus' statement to "Love the Lord your God with all your heart and with all your soul and with all your mind and with all your strength. The second is this: Love your neighbor as yourself. There is no commandment greater than these" (Mark 12:30-31). This is why a proper contextual understanding of the Bible is so critical to not only bring balance and understanding to God's word but also to his nature.
Yes, it is true. Jesus did say the greatest commandments are to love God to love your neighbour. So what? It doesn't mean the Malachi verse was taken out of context.
"You're taking it out of context!" is not an argument unless you can show how it actually has been taken out of context. If someone quotes a person as saying, "I want to kill everyone," and we look at the actual context of what that person said and what they actually said was, "It's not like I want to kill everyone, but I am angry," then that is an example of something being taken out of context. Quoting Malachi 3:6 as, "I the Lord do not change," is not something that has been taken out of context. Please understand the difference.
During the most recent episode of Dogma Debate, we had on John Christy, a Christian listener of the show, for David Smalley and the rest of us to converse with. The segment was supposed to be only about twenty minutes long, maybe forty at the most, but we ended up talking to him for over an hour and a half. A reason for that is because 1) we had a lot to talk about, and 2) he takes forever to say anything.
He was a nice guy. I am not trying to hate on John. I like him as a person. I am not a bigot against Christians, as much as Christians (and some atheists) would like to think I am. I do not like his beliefs. I do not like what he stands for. I do not like the source he claims is his moral compass. There's a difference. If the Christian can say, "Hate the sin, love the sinner," then we can say, "Hate the beliefs, not the believer," which is how I felt about John.
A very big problem I did have with him during the show was how when asked very specific and direct questions, he would employ how it takes forever for him to say anything, which derails the conversation to avoid actually answering the question. While the show was going on, I got comments from listeners who were saying exactly that. When repeatedly asked the same question because he was avoiding it, he just continued to ramble on as if he did not hear a thing (which maybe he honestly didn't because he was calling in on Skype).
Getting onto some specific points from the discussion.
John claimed that Jesus was breaking the Mosaic Laws, such as when he broke the Sabbath, and this is why we shouldn't follow those laws anymore. The problem here is that it's not biblically accurate, which is funny, because John kept saying that we weren't being biblically accurate, neither was the North Carolina pastor who wanted every gay to be put into a giant concentration camp for them to die off in.
The reason John is not biblically accurate is because Jesus was angered by the Pharisees for not following the Laws of Moses, as is clear in Mark 7:9-13.
And he continued, "You have a fine way of setting aside the commands of God in order to observe your own traditions! For Moses said, 'Honor your father and mother,'and, 'Anyone who curses their father or mother is to be put to death.'But you say that if anyone declares that what might have been used to help their father or mother is Corban (that is, devoted to God)—then you no longer let them do anything for their father or mother.Thus you nullify the word of God by your tradition that you have handed down. And you do many things like that."
Jesus is clearly mad that people are not following the Old Testament laws, especially the hypocrites who claimed he was not. Jesus wants us to follow the Old Testament laws of Moses. Jesus wants disobedient children to be executed. It's right there in black and white.
In response to when I pressured him about this, John claimed that Jesus was a law-breaker, that he broke the Sabbath repeatedly. This is partially true. Jesus was accused of working the Sabbath by the Pharisees, because he ate grain on the Sabbath, which required work. Also, the Pharisees accused Jesus of breaking the Sabbath by healing the sick. However, according to an apologetics site, Jesus was not sinning when he worked on the Sabbath.
When Jesus healed on the Sabbath, He was not breaking the Sabbath, but fulfilling it, because one is not at rest when afflicted, oppressed and bound by disease or infirmity. As many scriptures show, God delights in redeeming and restoring the afflicted, and giving them the rest exemplified by His Sabbath. God "hears the cry of the afflicted. When he gives quietness [rest], who then can make trouble?" (Job 34:28–29).
I'm not saying that I agree with the either John or the apologetics site, but it's funny to see how Christians disagree with each other so much with their interpretations of who Jesus was, what he did, what he taught, and how we should live our lives according to his teachings.
Now the reason John brought this up was because he was saying that the coming of Jesus, that his time here on Earth, was him creating a new covenant and getting rid of the Mosaic Laws, such as stoning gays, disobedient children, people of other faiths, people who work on the Sabbath, and other people for what today would be considered barbaric and for arbitrary reasons. Well, that same article on Jesus breaking the Sabbath has this to say on that.
Had Jesus Christ actually broken the Sabbath, He would have been sinning. But the Scripture says that He "committed no sin" (1 Peter 2:22). Had He sinned, He could not be our Savior. But He, being undefiled and separate from sinners, offered Himself without spot and without blemish to God for our redemption (Hebrews 7:26; 9:14; 1 Peter 1:18–19).
Breaking the Sabbath, according to these Christians, is a sin even today. John did not say that Jesus did not break the Sabbath because he was doing God's will or because it was a matter of life or death, only that Jesus broke the Sabbath, because he was creating a new covenant for people to live by. I, if I were a Christian, would spin this to say that the new covenant had already been made, so Jesus was still perfect and had not sinned, therefore he could still be sacrificed to God (who is himself…but is also his father…but is also a part of him…who is still separate…and then there's that Holy Ghost thing…what?) for the sins that he let happen.
Speaking of, Smalley also tried to get an answer out of John on this one. Jesus was a sacrifice to God for the sins that God was fully aware were going to happen. God knew that Adam and Eve were going to sin by eating from the Tree of Knowledge. John responded to this by going around the question and speaking for a really long time without really saying anything that had anything to do with the question.
Here is the difference between Christians and atheists. Christians, when faced with the tough questions, will make excuses and/or go around the question itself. Atheists will straight up answer that question.
Another thing he claimed was that Christianity does not command the murder of people for things such as homosexuality, fornication, adultery, working on the Sabbath, etc. This is why he thought, when we played the audio of it, that the North Carolina pastor was being biblically inaccurate for what he said. However, nowhere in the New Testament does Jesus, or anyone for that matter, say that the laws of Moses have been voided, and it is all the more clear that Jesus himself wants us to follow those laws with how he quoted them himself. If he did not want us to follow these laws, then it would be just another contradiction added to the mountain of contradictions found in the Bible.
My favourite part of the interview, the part where you just want to facepalm so badly, is when John said this.
I'm not even allowed now to have my own opinion to myself. I don't go out and attack homosexuals. I disagree with the Westboro Baptist Church, you know. But I can't even just think that it's sin in my own life. Now I have to conform to what society believes, otherwise, I'm gonna be in trouble. I'm gonna lose my friends…
Bigots should be ostracised. Why is the KKK ostracised? Why is it considered a hate group? Because it is! Soon NOM and other anti-gay groups and people will be seen as the same, and they should be. Persecuting others for their sexuality or their gender or their race is not acceptable. Thinking that they are inferior, that they are going to hell, that they are going to be eternally punished because of something that they can't control should be frowned upon for so many reasons.
However, Christians are not persecuted in America. Christians are not banned from holding public office in several states. Christians are not misrepresented in the media. Christians are not told that less than half of all Americans would vote for them. Christians are not legally allowed to be discriminated against in the workplace. Atheists are. Gays are. No Christian can say they feel persecuted in a country where 80% of the population are Christian.