Blog Archives
I'm going to do it. I'm going to come out and be proud of who I really am, no matter the hate I may get for it!
I am a nerd!
Yes, I am a nerd. I like nerdy things like RPGs, video games, and much more. What really makes me a nerd though is that I love superheroes and comic books (fuck DC though, Marvel all the way).
By far my favourite superhero is Spider-Man.
The reason I love Spider-Man is because when I was growing up, I could really relate to him. Peter Parker was this nerdy, awkward kid that did not have many friends, but he led this secret life where he could do these truly amazing things and help people that were in need.
Spider-Man was also always the youngest of the Avengers (excluding maybe some really young X-Men), and I was always the youngest of my friends. I still am to this day.
However, I know that Spider-Man is not real. He is just a fictional character that was made up years ago by Marvel to sell comic books (and eventually toys, movies, and television shows, all of which I absolutely loved).
But I know that I can prove that Spider-Man is real through Christian logic.
Many Christians will use the Bible to prove the existence of God. This is like me using Spider-Man comics to prove that Spider-Man is real.
When that fallacious reasoning is exposed, Christians will then point to certain stories and events in the Bible as proof that the Bible is the Word of God, because these events really did happen and are backed up by independent historical evidence. These places, which are real, are talked about in the stories of the Bible.
Yes, certain events detailed in the Bible did happen (most did not or are depicted inaccurately, but let's ignore that fact). Yes, the Bible does talk about real places and people in history. That does not mean the Bible is historically accurate though, let alone the supposed message and commandments of some deity.
Put it this way: Spider-Man is set in New York City. That's a real place, and real people live there. Real people are talked about in Spider-Man comics, including President Barack Obama.
Not only that, but Spider-Man has real events talked about in the comics too. The September 11th terrorist attacks are depicted in one.
Real places. Real people. Real events.
By the same logic used by Christians, Spider-Man should be just as real as the god of the Bible.
The only difference between the god of the Bible and Spider-Man though is that Spider-Man is actually a moral character that children should model themselves after.
Spider-Man didn't order people to kill babies (1st Samuel 15:3). Spider-Man isn't a fearful, hateful bigot that wants people to kill homosexuals (Leviticus 20:13), witches (Exodus 22:17), adulterers (Leviticus 20:10), people who like other superheroes more (Exodus 22:19), etc.
In a couple hundred years comic books might start being taken a little too seriously, and Spider-Man comics will be seen as divine revelation and turned into the next great religion that tramples the globe and causes people to kill each other over nothing.
As most people are aware, President Barack Obama recently said this during an interview with ABC on Wednesday:
I have to tell you that over the course of several years as I have talked to friends and family and neighbors when I think about members of my own staff who are in incredibly committed monogamous relationships, same-sex relationships, who are raising kids together, when I think about those soldiers or airmen or Marines or sailors who are out there fighting on my behalf and yet feel constrained, even now that Don't Ask Don't Tell is gone, because they are not able to commit themselves in a marriage, at a certain point I've just concluded that for me personally it is important for me to go ahead and affirm that I think same sex couples should be able to get married.
Gay rights activists and other supporters of gay marriage have been going completely insane over this. When the news first broke of this, I could not find anything in my feed on Facebook or Twitter for about two hours that was not about the president's endorsement (or so it seemed) of gay marriage. The news was particularly shocking in light of North Carolina's move on Tuesday to make a constitutional ban against same-sex marriage and Vice President Joe Biden's recent interview on Meet the Press where he said that he is "absolutely comfortable" with same-sex couples receiving the same rights as straight couples.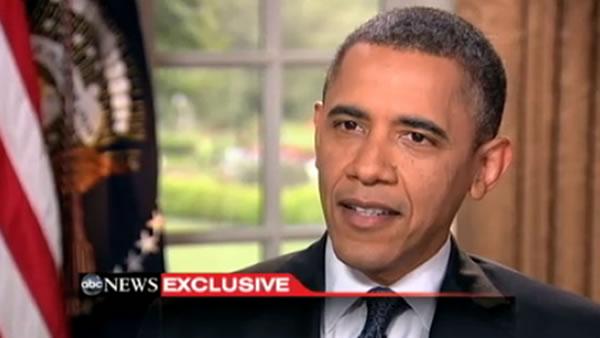 The problem with this is that he has not actually said or promised to do really anything. Okay, he thinks that gays should be allowed to get married. Great. He has not said anything about trying to actively repeal the Defense of Marriage Act (DOMA), although his administration says that they will not defend it in the courts, and he has not said anything about any new federal policy that would allow for gay marriage at the federal level. An aide to the president said that while President Obama feels that gays should have the right to be married, he also believes that the states should be the ones who ultimately decide if they want gay marriage or not.
The interview seemed to be carefully worded so that if he never does anything to repeal DOMA or try to bring a federal law recognising same-sex couples, he can say that he never promised such a thing. It all appears to be empty election politics so as to stir gay voters who may have been thinking of not voting for him come November (not that they would vote for Mitt Romney, who has stayed consistent, for once, on the issue of gay marriage and how he is against it).
Now despite this, President Obama's words are encouraging. He has said that his position on the issue has been "evolving," and maybe he will try to repeal DOMA someday. President Obama does not seem to realise this, but the position of the presidency does have a lot of influence with how the public feels and talks about certain issues, especially since he is a black man and black people and other minorities, while supportive of the Democratic Party, are not as supportive of gay rights as we would hope. Him coming out in favour of gay marriage by fully repealing DOMA and recognising same-sex couples would possibly put this issue in its dying days.
President Obama has done amazing things for gay rights, such as ending Don't Ask Don't Tell (DADT), and although this does seem like nothing more than election rhetoric to get liberals to the voting booths, the idealist in me hopes that someday (soon hopefully) we can all look back on this like we look back today at the people who opposed women's rights and black rights and think to ourselves, "Those people were fucking stupid."