Category Archives:
Review
Mom, Dad, I'm an Atheist: The Guide to Coming Out as a Nonbeliever by David G. McAfee, the author of Disproving Christianity and Other Secular Writings, is about exactly what you think it is about, how to come out as an atheist, and, of course, it is aimed mostly at young people, but it also gives advice on how older individuals can come out to their family, specifically their significant other.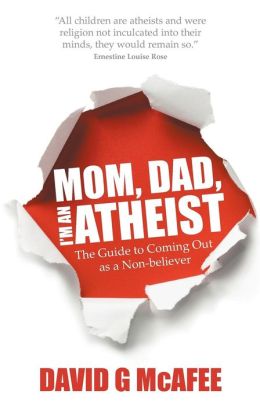 McAfee, 24, claims in the book to have never really believed in the faith he grew up in but did attend church on a weekly basis due to familial pressure. Eventually, he decided at the age of 15 to tell his parents that he did not believe in Christianity. He graduated from the University of California at Santa Barbara with a Bachelor's in English and Religious Studies.
When applying for graduate school at the same university, he was denied on the basis of his atheist activism. Because of this, McAfee decided to write Mom, Dad, I'm an Atheist in hopes that other atheists, young and old, will have better experiences in coming out to their family, friends, peers, and colleagues.
After giving his back story of his coming out and discrimination, which are sandwiched around the chapter "Why Come Out?", McAfee doesn't immediately go into how to come out. The next two chapters are about what it means to be an atheist and being good without God.
So not only is the book a guide to "coming out" (which McAfee always seems to put quotation marks around that phrase in the book), but it is also a back story of his life, his coming out (and the coming out stories of others that he puts into the book), and an explanation and defense of atheism.
With these extras the book does offer a lot of great advice, such as in the chapter "Timing is Everything." My personal coming out story had very bad timing and went against everything that McAfee advises. If I had read this book almost four years ago when I first became an atheist, I think some of my personal relationships would have lasted longer than they did.
Overall, I would highly recommend this book to any person who needs to help in coming out. McAfee is an intelligent, articulate person that can make a concise point that is always fun to read or reread (and possibly the nicest person you will ever meet), and his book can be an invaluable asset for someone who does not have any idea on what to do.
If you want to know more about the book and about David McAfee, you can listen to my interview with him and our discussion of his book here.
I would also like to announce that Dogma Debate, LLC will be publishing the audiobook for Mom, Dad, I'm an Atheist!
Free Will by Sam Harris, author of such works as The End of Faith and The Moral Landscape, was in my university's bookstore for only ten dollars, and I have been meaning to read it since it came out, so I thought I would give it a try while I was waiting in between finals.
The book, if one can really call it that, is sixty-six pages and roughly 13,000 words long, not including the Index or Notes sections. It is basically a really long college essay. Free Will took me about an hour, hour-and-a-half maybe, to read the entire thing from front to back, and this included the time I took out of reading the book to Tweet about it. I am a very slow reader, mainly because I like to reread certain things several times to make sure that I took it all in, but if my fiancée had been reading his book it probably would have taken her about the same amount of time it takes your average atheist to yell at the computer during a video by Eric Hovind (such as this one).
Unlike college essays however, Free Will was written by someone who obviously knows what they are talking about and how to defend it. The length of the work should not detract from it. Contrary to what many academics believe, longer does not always mean better. There are plenty of books that ramble on and lose the reader's interest fairly quickly, or they use language that goes over the average person's head that makes them go, "What did I just read?" This is where the length of Free Will actually helps out Harris' case. Free Will is concise, to the point, and written in language that pretty much anyone can understand.
This does have its drawbacks though. With the length, it is not as in depth as one might hope for when talking about things like determinism, libertarianism (not the political ideology), and compatibilism. As much as he does cover these and explain how the latter two simply do not work, Harris only mentions them very briefly in chapters that are only a few pages long. Some of this stuff possibly would have been better being rambled on about, but it does for the most part say what needs to be said.
Using scientific evidence, such as studies undertaken by Benjamin Libet, as well as philosophical reasoning to make his case, Sam Harris makes it very clear why free will is an illusion. Harris covers most of the common arguments for free will, such as that quantum uncertainty and supposed "random" neural activity are things that may at least suggest free will and destroys them with eloquence like in all of his works. As well, throughout certain parts of the book, he goes toe-to-toe with compatibilists, such as friend and fellow Horsemen of the Atheist Apocalypse Daniel Dennett.
He also brings up the moral aspect of determinism for most of the latter half of the book. Most people believe that if we do not have free will, then there is no way to justify punishing people who do bad things. He demolishes this argument entirely, showing how we can still have a functioning justice system with a deterministic worldview. I won't go into how he does it; you will have to read it for yourself (along with that, be sure to check out some of my favourite books along with Free Will).
Overall, Free Will by Sam Harris is a great read (but maybe I was determined to say that). It is well written and the arguments are articulately and lucidly presented in such a short amount of time that allows for anyone to grasp and pay attention. Set aside an hour or two to have the entire thing read in one sitting. By the end of it, you will hopefully no longer hold onto the idea that you have free will (not that you have any choice in the matter).