The Right Gets it Terribly Wrong on "Fast and Furious" Scandal
President Obama is being heavily criticised for the Fast and Furious "gunwalking" scandal that came to light following the murder of Border Patrol Agent Brian Terry by gun traffickers who were being sold guns by the ATF. The operation began when the Tuscon, Arizona branch of the Bureau of Alcohol, Tobacco, Firearms, and Explosives (ATF) planned on selling guns to Mexican gun traffickers. These guns would then be tracked back to the Mexican drug cartels as part of a sting operation in hopes of finally breaking the drug cartels that have been wreaking havoc on the Mexican-American border.
The president is being criticised for asserting his executive privilege to withhold certain documents concerning the operation. Congressional Republicans, the Republican National Committee, and the Romney campaign all jumped on President Obama for this action, saying that he is going back on his promise for having a transparent government and that him and Attorney General Eric Holder, who recommended the president use his executive privilege, are trying to coverup a flubbed operation that resulted in the murder of a federal agent. They either fail to remember or simply ignore the fact that President Bush invoked his executive privilege six times. This is President Obama's first.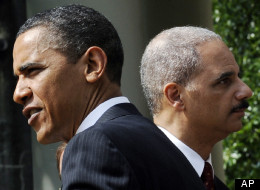 The Republican controlled House of Representatives voted along party lines to hold the attorney general in contempt of Congress and linking him to the failed operation and its supposed coverup. This could land Holder in prison or at least with a hefty fine, but more than likely not.
The other criticism of trying to coverup the operation, Deputy Attorney General James Cole wrote in a letter to Rep. Darrell Issa (R-CA), who is chairing the Congressional probe into the matter, that the Justice Department releasing 7600 documents concerning Operation Fast and Furious should have been ample evidence that no coverup is trying to be made. The Californian Representative seemed to ignore that bit of information, and the attorney general was still voted in contempt.
President Obama and his administration are claiming that Republicans and the Republican presidential candidate Mitt Romney are doing nothing more than politically motivated attacks to make him look bad in an election year instead of doing what they promised when they won the House in the 2010 midterms, which was creating jobs and helping the economy, seeing as they have killed almost any bill put forth by the Democrats of the Democratic president that would do such a thing.
Politicians and pundits alike on the right appear to be unaware of the fact that Operation Fast and Furious began during the Bush Administration in 2006 when it was known as Operation Wide Receiver. When Fox News had something to say about it, they conveniently left out these important details, or would simply ignore them when they were shown right to their faces. Sean Hannity and Bill O'Reilly either do not care about the facts or will outright ignore them if they do not fit into their notions of President Obama being the Black Hitler and will do and saying almost anything in order to criticise him.
So why is it that President Obama is being blamed (again) for something that began during his predecessor's administration?
Posted on June 23, 2012, in Politics and tagged alcohol tobacco firearms, atf, attorney general, attorney general eric holder, bill o'reily, border patrol agent brian terry, brian terry, bush, bush administration, conservative, darrell issa, eric holder, fast and furious, fox news, george w bush, gop, gun running, gun trafficking, gunwalking, issa, mexican drug cartel, mexican-american border, operation wide receiver, president obama, pundit, republican, right, rnc, romney campaign, sean hannity. Bookmark the permalink. Leave a Comment.