Jehovah's Witness Parents Ordered By Court to Give Daughter With Cancer Blood Transfusions
Justice Richard White of the Supreme Court of New South Wales, Australia ordered the parents of a four-year-old girl to allow the doctors to perform blood transfusions on the girl, who had been diagnosed just very recently with cancer of the blood and bone marrow, despite the objections of her parents, who are both Jehovah's Witnesses.
According to the Witness faith, which I used to belong to, blood transfusions are not allowed because of commandments from Jehovah (God) that consuming blood is forbidden in several verses, including Leviticus 17:10-14, Acts 15:19-29, Genesis 9:4, and Deuteronomy 12:16. The verses never say that blood transfusions themselves are not allowed, because they did not exist back in the days of the Bible, but the consuming and drinking of blood is forbidden, which the Watch Tower Society applied to blood transfusions.
Many different Christian denominations consider this, among other Witness practices and beliefs, to be outrageous and similar to a cult. It's not really. The Bible never said gays couldn't get married, just that people who lie with others of the same sex should be killed. The Bible also never said that you shouldn't get blood transfusions, just that you shouldn't drink it. It's applying two-thousand year old dogma to modern day situations. It's no different than any other Christian interpretation and implementation of the Bible.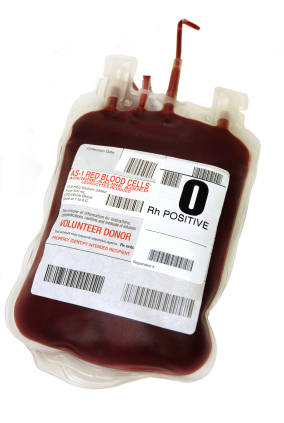 The girl was diagnosed with leukemia, and the pediatric oncologist treating her said that without treatment she "will die . . . I would say in weeks." The doctor also said that she had an extremely good chance of survival if she underwent treatment immediately. The parents refused to let her daughter receive possibly life-saving blood transfusions on the grounds of religious objections. They did, however, allow the doctors to do any other kind of treatment that is recommended for a leukemia patient.
After the parents refused to give their daughter the blood transfusions, the hospital petitioned the courts, saying that the transfusions would save the girl's life.
In the courtroom, the parents gave very emotional addresses to the court about how they love their daughter very much and do not want her to die, just that they object to blood transfusions because of their faith. Justice White, who only two years prior heard a similar case of a ten-year-old boy, came down in favour of the hospital and the girl, saying that, "The court is to act in the best interest of the child," and that, "Without a blood transfusion, there is a very high prospect that (she) will die."
This is especially good news, because the doctors said that even if they could save the girl without the blood transfusions, which is highly unlikely, she could have severe brain and kidney damage.
Parents should be forced to treat their children, not pray over them and wish that everything gets better. If a child's life is at risk, I don't care what a parent's religion is or what it teaches. A child living is better than appeasing some sky daddy who let her get sick in the first place.
People who deny their children safe and proven to work medicine because their religion says to are disgusting and should have their children taken away from them, at the very least. Nobody give me that "It's Darwinism! It's natural selection!" haha bullshit. It's not funny. Children are being killed by their parents over delusional, superstitious nonsense. There are 30 states today in America that allow exemption from prosecution of parents who deny their children medical treatment on the grounds of religious objections. This is the government condoning and shielding child abuse.
This is just another reason that religion is dangerous to society. It's stories like this that luckily ended up okay (or worse, the stories where the children die because of their neglectful parents) that make me question the idea of freedom of religion. So many children would still be alive today if not for their parents denying them insulin, or when a baby is denied medical treatment that could prevent her from going blind, or any of these horrific cases, all because of the parents' religion. Better yet, when a thirteen-year-old boy refuses his own cancer treatment because of the influence from his parents' religion.
Since we're here complaining about children dying from diseases, let's actually do something about it. Here's a link to the donations page of Have a Heart: Children's Cancer Society. Donate what you can. Please. I know, I'm such an evil, misanthropic atheist for wanting people to donate to a children's cancer charity.
Posted on June 2, 2012, in Religion/Atheism and tagged australia, bible, blood transfusions, cancer, christianity, court, have a heart children's cancer society, jehovah, jehovah's witnesses, judge, justice, jw, leukemia, new south wales, parents ordered to give blood transfusions, richard white, supreme court, witness. Bookmark the permalink. 17 Comments.